How Much Does It Cost to Rent
a Meeting Room?
We have a better way - we include everything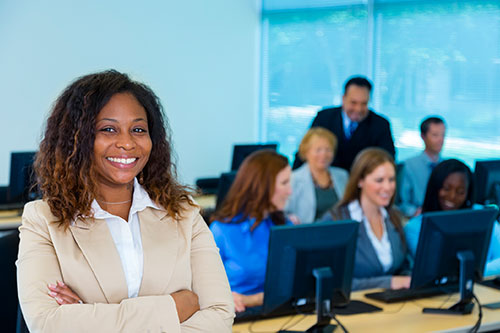 On average, an all-inclusive meeting room will run $75-$165/hour. This pricing includes all technology needed, such as computers for each attendee, WIFI, Wired Internet, LCD projector, screen, instructor work station and speakers. Snacks and refreshments plus set up, onsite tech support and service fees included.
At ContactPointe, we have radically different pricing. Plus, we take care of all the details. Whether we book you at a dedicated training facility, hotel, university or temporary office space, our pricing is all inclusive. At most conference centers and hotels, pricing is made up of many line items. Room price may be small, but every additional piece of technology or food item is an additional charge. Our full-service approach makes it easy as 1,2 3, no really 1,2… book it, show up!
We give you a firm price, making it easy to stay on budget.
Meeting Room Variables:
Location- Large metropolitan cities have higher costs. All locations are vetted.
Number of attendees- The more attendees, the lower the cost.
Technology needed
WIFI
Wired Internet
Computers for each student
LCD projector
White boards and flip charts
Instructor workstation
Speakers
Length of meeting
# days
Hours required- min of 4 hours (half day) or 8 hours (full day)
Catering
Coffee and refreshments
AM/PM snacks
Lunch- optional. Additional charge of $18 per person on average
Room set up and other service charges
On-site technical and admin support included
Break area- separate space for attendees to interact. Most often included.
Parking costs- free at most locations. Large metropolitan areas may have parking fees.
We take into consideration your unique business needs which is why we offer full classroom and meeting room rentals with various hardware, technology, and support as well as flexible layouts. Your room is set up prior to your arrival with audio visual equipment, whiteboards, ceiling-mounted projectors and fast WIFI. Computers are optional and, should you need them on-site, our staff will take care of both hardware and software setup in advance of your meeting. Experienced staff members are right there to provide you with an immediate response; no need to call or wait for anyone should you need help.