Checklist- A Well-Designed Training Room
Boost the learning experience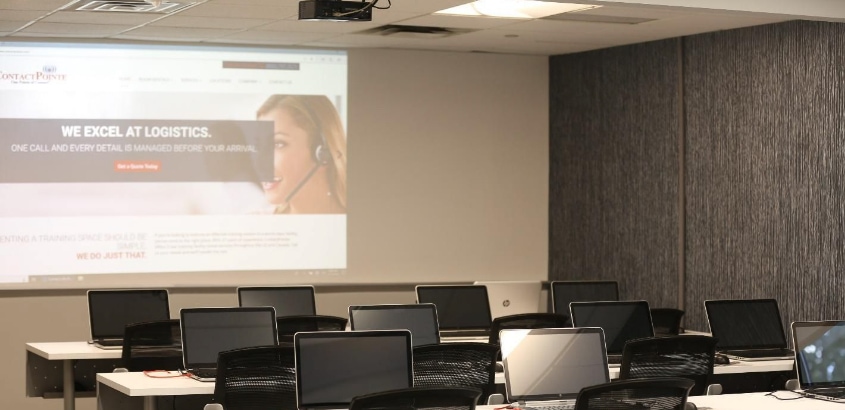 If you're focused on renting the right training space to maximize learning, here are important considerations for a training room. A well-designed and flexible space aids the trainer and their mission.
Physical training room
Allow 20-25 square feet per person and minimum 9-foot ceilings for use of visual aids
HVAC should be quiet and easily adjusted
Flooring and other sound proofing to minimize external noise and improve acoustics
ADA considerations implemented for accessibility, signage and hardware
Wall space that can be written or projected onto or screens and white boards
Flexible lighting to dim and illuminate as related to technology
Ancillary areas
Breakrooms and seating areas for informal gatherings and learning
Nearby restrooms and closets
Food service close by
Technology
Optional computers with latest technology, set up in advance with your software
White boards
Ceiling mounted projector with large format screen
Speakers and wireless microphone for larger spaces
Laser pointer and lectern
Video sharing, screen sharing, and interactive collaboration supported
Power outlets and local wiring on walls, floor, and work surfaces to recharge laptop computers and other accessories.
High bandwidth Internet, allowing students to work without delays
Furniture
Ergonomically designed seating with superior comfort. Includes padding, seat height adjustment and swivel ability
Lightweight and nested tables that are 18" or 24" deep and easily configured into classroom, pod or U-shape
Dedicated training facilities meet all these checkmarks. Let ContactPointe find the right training room for you.
For over 27 years, ContactPointe has helped thousands of companies with their training facility needs. We've led the training room evolution into technology solutions of computer classrooms, software installation and onsite support.