Pop-Up Computer Lab
Regardless of your IT training needs, our computer training facilities can come to you!
Do you have the perfect training facility but lack the computers or technology to host an effective computer training session? ContactPointe's pop-Up computer lab is the perfect solution for you.
Utilizing high-end laptops, ContactPointe can bring our computer lab to your office or any other location. Our pop-up computer training labs offer the same benefits as fixed computer training facilities and will meet your needs while ensuring that participants enjoy an engaging and active learning environment. You can also sit back and relax knowing that every detail is managed and coordinated by us.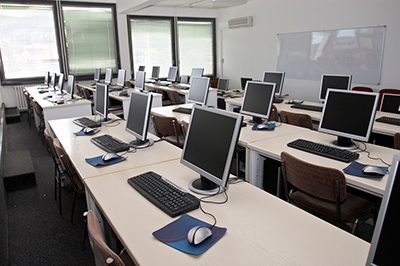 When it comes to pop-up computers labs, we understand how critical a fast reliable internet connection is to your training.
We also know the importance of installing customized software applications and/or plugins to our customer's exact specifications. Our customer service technicians ask the right questions and ensure that every machine is configured and ready for your training.
A third key component is onsite support during your training. We urge customers with 10 or more attendees to utilize our onsite support and a professional setup. This will ensure someone is right there ready to help should the need arise.
Because students are in the class for a limited time, a classroom environment that promotes productivity and learning is key. Our technical staff understand how to set up a learning space that will be conducive to learning.
ContactPointe's technical staff will create a pop-up computer lab that includes:
Networked classrooms with Internet access
Video projection equipment
Onsite support
Software that is fully installed and tested
A remote location should not influence your decision about important training
on critical applications.
Call us today for more information about availability and pricing at 877-255-4916