Dedicated Training and Meeting Rooms
For optimal learning
There are number of variables when comparing meeting room and training classroom choices. Dedicated training and meeting room facilities feature many benefits, resulting in enhanced productivity as well as creating an optimal learning experience for attendees. When compared, they are often preferred over hotel meeting spaces which are often more costly and compromise on flexibility.
| | | |
| --- | --- | --- |
| Spacious Classrooms with flexible layouts | | |
| Computer for each student | | optional |
| Wi-Fi | | optional |
| Wired Internet connection for computers | | varies by hotel |
| LCD projectors/AV equipment | | optional |
| White boards and flip charts | | optional |
| On-site technical support staff | | optional |
| Student break area | | varies by hotel |
| Drinks and snacks- AM and PM | | optional |
| Lunch- hot or cold | optional | optional |
| Concierge and hospitality services | | |
| No deposit at time of booking | | deposit required |
| 14 day cancellation | | varies by hotel |
| One invoice- matches quote | | varies by hotel |
| Newest technologies | | optional |
| Dedicated project manager | | varies by hotel |
| 25-point checklist | | varies by hotel |
| Training material tracking | | varies by hotel |
| Audiovisual setup | | optional |
| Computer and software setup | | optional |
| Facility directions; turn by turn, address, map | | optional |
| Parking fee | rarely | rarely |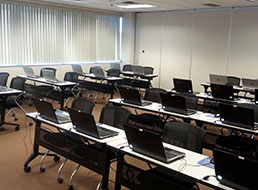 With over 20 years of business training experience, dedicated training facilities understand your unique business needs which is why they offer full classroom and meeting room rentals with various hardware, technology, and support as well as flexible layouts. Your room is set up prior to your arrival with audio visual equipment, whiteboards, ceiling-mounted projectors and fast Wi-Fi. Computers are optional and, should you need them on-site, our staff will take care of both hardware and software setup in advance of your meeting. Experienced staff members are right there to provide you with an immediate response; no need to call or wait for anyone should you need help.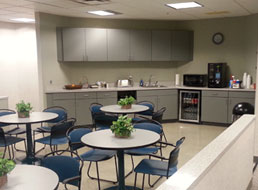 Classrooms and meeting rooms feature plenty of space, ensuring that you're never stuck in a small room; something that is often the case with many hotels where room size is determined by the number of participants.
Training facilities also offer break rooms which are separate from the meeting room so that attendees have the opportunity to interact. Additionally, locations are conveniently situated close to hotels, airports or city centers, helping you eliminate the hassles of a long journey.
Food and drinks are available throughout the day making it easy for attendees to step out for a quick break or conversation. With hotels, refreshments require pre-ordering and scheduling, forcing you to adhere to a specific time schedule.
When comparing pricing, a dedicated training classroom facility has "all-inclusive" pricing. All technology, staff, setup, snacks and refreshments are included. The only optional charge is a catered lunch. With hotels the room may be free but everything else is a la carte. The example below shows the original estimated price and the final price. Note that AV, projector, Wi-Fi and other meeting technologies are not listed. Be aware of inconsistent pricing, such as charging for Wi-Fi per participant when only one connection is needed.
Hotel-Estimated cost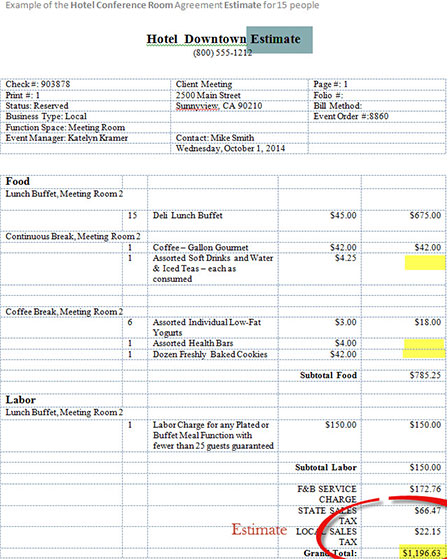 Hotel-Actual cost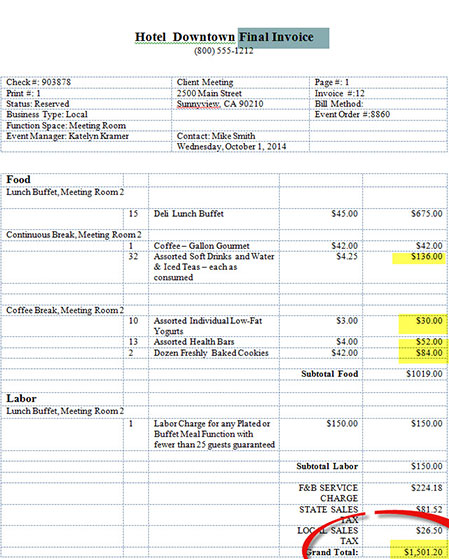 All Inclusive Bill- Training Facility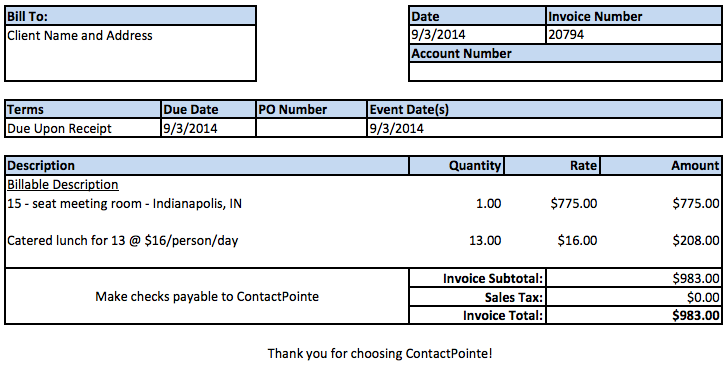 When choosing a venue for your next meeting or training session, there is more to consider than just the budget.
Suitability, location, availability, size and amenities all factor in to make a meeting more productive.
ContactPointe provided excellent space for our meeting in Pittsburgh. Our team was impressed and preferred it over a hotel meeting space. The classroom size, conveniences for the attendees, available meeting technologies and support staff made our meeting much more productive. In fact, we have another CareFusion team planning a meeting there as a result.
Marty S.
CareFusion
Looking to rent a training room?