Salt Lake City Meeting Rooms and Training Facility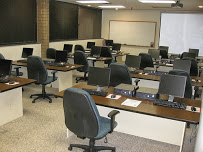 Many training facility options in Salt Lake City area
With multiple locations in the Salt Lake City area, there is a training or computer classroom convenient to you. At ContactPointe, we plan and manage every step of your event so you can focus on giving a knock-out training session.
Simply tell us your event requirements and we'll assign a project manager, choose and reserve a professional location with all the technology you need, secure the best pricing for your venue, and provide you with an all-inclusive quote, along with dedicated professional assistance leading up to and during your event, saving time and resources.
The elements that make our facilities a first choice are:
Technical and administrative support
Two high speed Internet networks (one is for back up purposes)
Comfortable chairs with multiple adjustments
Central location
Lower costs than many other options
Our technical support staff eliminates the hassles of:
Attending to technology related issues
Arranging for hardware (computers, projectors, screens, switches, routers, Internet connections, and cabling)
Setting up and testing of the software and hardware
Tear down and clean up
Each computer classroom is set up with the needs of the client in mind. We provide a clean set up with client and network operating software loaded, local area network connectivity, and a connection to the Internet. The instructor's screen is projected to allow each learner to follow as needed.
Technology
High speed internet and Wi-Fi throughout our space
Computer classrooms come preloaded with Windows 7 and Microsoft Office
19" LCD monitors
Ethernet wires to every computer
Instructors screen projected to monitors next to each student
Onsite technical staff
Software installation and setup
Other features:
No deposit required when booking
There is a 14 day cancellation policy
All-inclusive quote with one invoice
Bagels with condiments, coffee, tea, soda, water and afternoon snacks
Daily and weekly rentals
Ample free parking
Flexible options for catering
As your One Pointe of Contact, we manage all of the time-consuming and often frustrating details that go into securing a location for your next computer training class or corporate meeting. From the initial room procurement down to software installation and catering logistics, ContactPointe has you covered.