Computer Lab Rental
Rent computer labs that will meet your training needs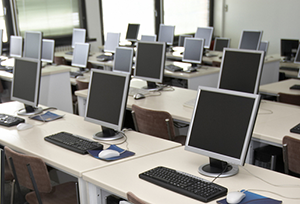 Are you looking for a place to host an upcoming computer training session? Why not go with ContactPointe and rent a computer lab?
Our labs feature high-end desktops or laptops and presentation equipment that promote a conducive and engaging learning environment. When you rent computer labs with ContactPointe, we will work with you to ensure that every detail is managed and coordinated. All you have to do is show up.
We realize that computer lab rentals can be complicated, especially if you need to use customized software applications. Our computer labs can accommodate any software you need, and our customer service technicians will be on hand to ensure that the software you need is installed to your exact specifications. Should anything go wrong, our onsite support staff are on hand to keep things running smoothly.
Computer lab rentals from ContactPointe offer:
Networked classrooms with Internet access
Video projection equipment
Onsite support
Software that is fully installed and tested
When you need to rent a computer lab, it shouldn't be hard.
Call us today to see how ContactPointe makes computer lab rentals a breeze